Featured products
Quick View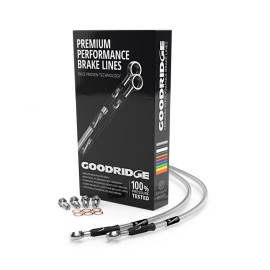 Brake Hose Kit for Honda Cbr900Rrt-X Fireblade 96-99
Model: HN0900A
£31.19
Ex Tax: £25.99
Goodridge brake hose kits feature the finest quality hose, consisting of a PTFE inner with a stainless steel outerbraid. This eliminates the spongy feel under arduous conditions, giving greater clutch operation as well as providing superior resistance to abrasion and corrosion. These kits, therefore, not only provide the reliability and safety demanded but offer brilliant good looks that improve the appearance of any installation.
If you are not sure what fitting type you need, use our handy guide below
Motorcycle Brake Hose Guide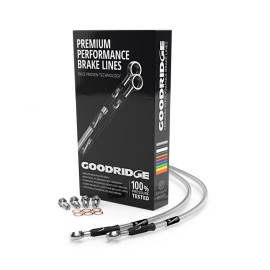 Quick View
Goodridge 600 Series PTFE 600-02 PVC Covered Hose
Model: 600
£8.99
Ex Tax: £7.49
Goodridge 600 Series PTFE 600-02 PVC Covered Hose 600 series hose strongly resists expansion under high pressure and temperature, provides consistent brake and clutch pedal pressure giving firmer and more efficient operation without that spongy feeling. Offering protection against brasion and fire, these hoses are also recommended for all pressure gauge lines and fire extinguisher systems
Price is per metre.

New!
Quick View
Red Line Superlight Shockproof Gear Oil
Model: 58504
£24.48
Ex Tax: £20.40
Red Line Superlight Shockproof Gear Oil. Great price, Protect your investment buy online now at CAM Auto Developments.
The "Silverstone" trick for Formula Fords. Low drag…
Film thickness greater than an SAE 75W90, yet low fluid friction like ATF

Used in low-power dog-ring racing transaxles with moderate to low load, qualifying, etc.

Acting like a liquid grease, these unique lubricants contain a suspension of solid microscopic particles as an extreme pressure agent, offering a "best of both worlds" balance of low drag and superior protection for gear teeth

Unique lubricant with solid microscopic particles offers low drag/high protection

Relatively low viscosity, yet cushions gear teeth under extreme pressure

Helps to prevent tooth breakage, resists throw-off

Avoid use with pumps, coolers, and filters as unique medium and affinity for metal can cause clogging

Designed for wet sump transmissions and differentials with splash lubrication

SOLD PER QUART

Why
us?
We're a leading supplier of automotive performance parts and accessories with huge product stocks and a fast reliable service READ MORE