Mountain Bike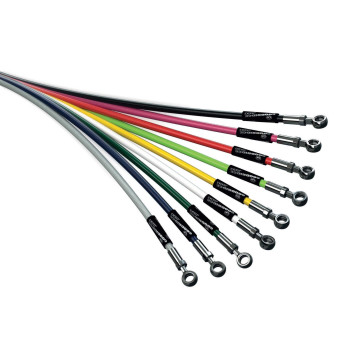 Mountain Bike Brakelines and Pads
Hydraulic Brakeline Kits
Goodridge PTFE brakeline hose, developed from our motor racing heritage, is extremely flexible and tough. With zero expansion, even under heavy braking, 100% of the pressure at the lever is transformed into stopping power at the caliper. Goodridge high performance hoses are the only upgrade choice for hydraulic brake systems. Compatible with all brake systems, our unique patented design allows you to fit the hoses simply and quickly to suit your bike. Increase your performance and control. The hose is available in a range of translucent and opaque coloured coverings providing stylish protection to your frame. Fittings are available in both downhill spec stainless steel or anodised aluminium.
Performance Disc Pads
Our range of high performance pads have been developed from years of experience in racing disciplines around the world. The Mountain Bike specific compounds offer durability and control in any conditions. Pads are available in two specifications, long life ceramic or high performance sintered.