Car Brake Hose Kits & Fittings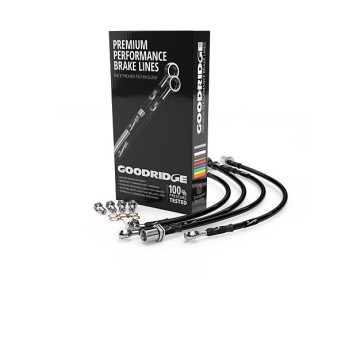 Car Hose Kits
Goodridge stainless braided brakelines are the standard in professional motorsports where the ultimate in braking is required. The kits feature the finest quality hose, consisting of a PTFE inner with a stainless steel outerbraid. This eliminates the spongy feel under arduous conditions, giving much greater braking efficiency or clutch operation as well as providing superior resistance to abrasion and corrosion.
These car hose kits, therefore, not only provide the reliability, performance and safety demanded but offer brilliant good looks that improve the appearance of any installation. With the largest application listing of any company and an unmatched reputation backed by champions worldwide, there is no reason to choose anyone else.
Classic Kits
Aimed at all classic cars pre 1980 – all the efficiencies of a braided PTFE lined brake hose with the classic look of a rubber hose! The kits are supplied with either stainless steel or plated mild steel fittings with our new vintage black hose. The lines are also supplied with a new black classic tag and two new classic looking stickers for your car, all supplied in great-looking packaging. Modern brake lines for your classic car.