Goodridge Motorcycle Brake Hose Guide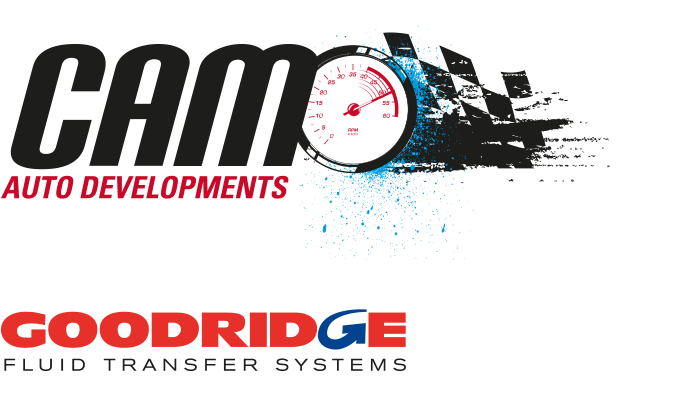 What is the difference between
Standard

,

Hop-over

and

Race

brake lines?
Race layouts are required by the ACU for twin caliper front brakes. Their regulations state that brake hoses should not be routed over the wheel, and specify that the lines must be joined above the top yoke. Our kits with 'Race' in the description have two lines from a double banjo at the master cylinder, with each line running to each caliper.
Standard (AKA Three Line) layouts are standard on many European bikes. One line from the master cylinder to a 'T' piece, and then a line to each caliper. Generally, we offer what was standard on the bike and the alternative of a race option.
Hop-over layouts have a line from the master cylinder to caliper, and a second line running from this caliper crossing over the mudguard to the other caliper. Many Japanese bikes have this layout as standard.
STANDARD FRONT
---
OEM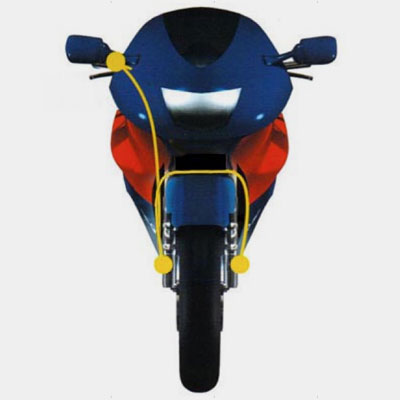 HOP-OVER STYLE
SINGLE FRONT DISC
RACE FRONT
---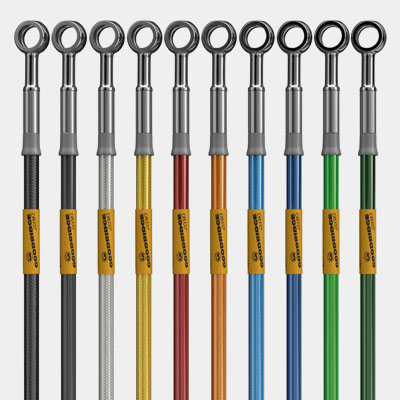 FEATURES AND BENEFITS
---
At Cam Auto we are frequently asked what makes Goodridge brakelines superior to our competitors. Goodridge stainless braided brakelines are the standard in professional motorsports where the ultimate in braking is required. With the largest application listing of any company and an unmatched reputation backed by champions worldwide, there is no reason to choose anyone else.
Feature – Every brake line made by Goodridge is 100% pressure tested. Benefit– Guaranteed to be leak free and give an improved braking performance.
Feature – Every brake line made by Goodridge UK is 100% TUV, DOT, ADR and ISO approved. Some can even be processed as ABE. Benefit– All Goodridge brake lines can be used worldwide.
Feature – In-house design, engineering, manufacturing and quality departments. Benefit– All fittings are designed and manufactured to fit every application first time, so no bending of banjo's is required, or universal fittings that do not fit properly.
Feature – Goodridge have been in business 45+ years and supply brake lines to over 25 OEM's worldwide. Benefit– All of our expertise of supplying world leading OEM's, motorsport teams and aftermarket distributors over the past 45 years goes in to every brake line we make.
Feature – Goodridge employ over 300 staff worldwide with nine Goodridge locations and over 250 handpicked distributors. Benefit– Unparalleled customer service and support worldwide.