Hose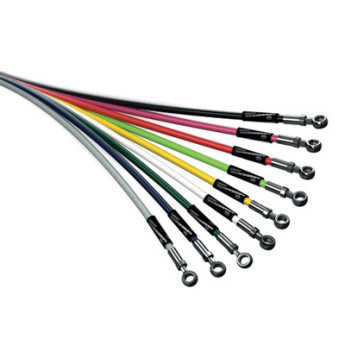 High speed, constant rapid gear changes and heavy braking put great strains on competition hydraulic systems, where failure can be disastrous. 600 series hose strongly resists expansion under high pressure and temperature, provides consistent brake and clutch pedal pressure giving firmer and more efficient operation without that spongy feeling. Offering protection against brasion and fire, these hoses are also recommended for all pressure gauge lines and fire extinguisher systems. Use dash size 3 for most braking systems and dash size 3 or 4 for clutch systems. Dash 2 hose is the smallest brake hose available. Its microbore construction can give increased line pressure and more responsive and sensitive brake feel. Excellent for all 4 and 2 wheel braking applications whether for the circuit or road.
---
Price Match Guarantee!
If you find any Goodridge
product
cheaper anywhere else, call us on 01727 827717 and we'll price match for you.
Terms: Price matches may only be honored on identical items. We reserve the right to disallow any price match as we see fit.
---
Showing 1 to 3 of 3 (1 Pages)